Do you know how important is Career and Career Research?
If your answer is 'Yes', Good to know that.
But in case your answer is 'No', then it's advised to go through this article.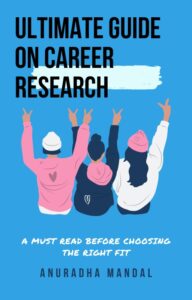 A career is what you do for a living and how you advance through a profession or company.
Career is the most integral element in everyone's life and hence it is suggested that each one should choose it wisely.
Let us understand this by a very simple example.
For example, if you are good at Painting but you are not gaining any monetary benefits from it, then this will be considered as your hobby and not as your Career.
Similarly, if you start showcasing your artwork in exhibitions, art fairs, and festivals and start getting some reward out of it, then Painting becomes your Career. 
You start your career at the age of around 23-28 years and work till the age of 60-65 years.
On average most, individuals have a Career life of around 40 years. You are going to invest 80% of your life's time in the job or business which we call a Career.
According to the Career change statistics, an average person changes their Career about 5-7 times in their working life.
The study also shows that 80% of the working professionals are not happy and satisfied with the work they are doing.
There is a tendency to change the Career even after 10-15 years of experience. 
Again, as per the survey, 93% of the Indian students are aware of only seven Career options out of 250+ Career options.
So, it is very important that you research properly before selecting the one. This can be taken care of by proper Career counseling and Career Research.
Benefits of Career Research
It helps us to make more informed decisions from others' expertise and experience.
In the case of making career decisions Career Research is one way that renders support and constructive guidance in several ways : 
      Discovers your strength and weakness.

      Sets objectives and goals.

      Decides the right career

      Provides good resources

      Combat and minimizes the frustration and confusions

      Getting useful support and motivation.
Career Research Process
Career Research Process is an ongoing process that happens in several steps. This is not a one-time job. This consists of the following stages:
Stage 1: Self-Assessment 
This stage is where you need to self-assess yourself on various traits like your interests, skill sets, personality, etc. You can self-assess with the help of several tools and techniques.
These can be done with the help of some of the test mentioned below :
Intelligence Quotient (IQ) Test

 

Emotional Quotient (EQ) Test
Adversity Quotient (AQ) Test
Aptitude Test & Personality Test includes the following tests
Meyers-Briggs Type Indicator (MBTI) /16 Personalities Test.
Test Color
DiSC Assessments

 

Berkeley Emotional Intelligence Test
PATH Assessment
Multiple Intelligence Test: This test involves the below-highlighted intelligence
 Logical-Mathematical Intelligence

Verbal-Linguistic Intelligence

Musical-Rhythmic Intelligence

Visual-Spatial Intelligence

Bodily-Kinesthetic Intelligence

Intrapersonal Intelligence

Interpersonal Intelligence

Naturalistic Intelligence

Existential Intelligence
The result of this test gives you a detailed and clear description of each intelligence.
Psychometric Test:
A psychometric test is an assessment to evaluate an individual's overall performance and not restricted to skills, abilities, personality traits, and Job potential. Some of the best Psychometric test used widely are listed below:
The Meyer-Briggs Type Indicator (MBTI)

16 Personalities Factor

DiSC

Logical Reasoning Assessment

Numerical Reasoning Assessment

Verbal Reasoning Assessment.
After you have successfully completed these tests you come up with 5-10 Career options. This collected information will help you to make a decision.
This is the stage you need to take the help of your Parents, Teachers, Siblings, Mentor, etc. You need to narrow down your choices to 1-2 Career options.
Just, for instance, you came up with a final Career choice of Doctor and Lawyer.
Stage 2: Getting into their Shoes
You have to get into their Shoes to get an insight into the Career. 
What you need to do is you need to approach these professionals and spend 1-2 days with them.
Take a sneak peek at their work, their daily activities, responsibilities, salary, lifestyle, and ask their opinion regarding work-life, culture, and the sense of satisfaction from their work.
Make a list of questions and ask them what made them select this Career or Professions and what kind of preparation they have taken to get into this field.
Also get to know about their skillset, interest, abilities, natural inclination, hobbies.
You have to collect the responses from these professionals. Make a report of it, study and analyze it.
Stage 3: Mapping the Information
The most important step, you need to start mapping the information collected from these professionals (Doctors and Lawyers) with the information collected from your self-assessment. 
Stage 4: Overlapping
The overlapping section of the information between both the data mapped will help you in getting the best possible result.
This will draw a conclusion for you.
For example, you came with a final choice of becoming a Lawyer by Profession. Your Goal is finalized, now you need to reach that goal.
Stage 5: Taking Action
Start taking guidance from your Parents, Teachers, Mentor and make a roadmap to reach the set goal. There are several ingredients you need to work on to achieve your goal. 
As you have finalized on becoming a Lawyer. Start to find the core subject for the same, what the different entrance examinations are for getting into Law School or Colleges, find out the eligibility criteria, list out the names best Colleges and Universities, find out the application and selection process, etc.
Stage 6: Implementation & Final Call
This is the final stage which focuses on the execution and implementation of all the above-mentioned steps. This is your Final Call to just go and grab the opportunity.
Myths related to Career Research
There are myths in almost everything surrounding us and Career counseling is not an exception. Today we are going to highlight some of the myths regarding Career counseling. 
Myth 1: Choosing a Career is very simple and easy.
Myth 2: There is an age for Career Counselling.
Myth 3: Career counseling is only meant for school students.
Myth 4: Only unconventional careers need Career Counselling.
Myth 5: Career Counselling helps in getting jobs and placements.
Conclusion
Career Research is the most ignored practice by Students, Parents, Guardians, and Professionals. Though people find it not very important in reality, it should be considered as one of the vital practices.
It is the foundation that revolves around making the right academics and professionals.
Hope these have given you an in-depth knowledge of how to do Career Research before selecting the best fit for you.
It is advisable for each one to follow the process and get an insight into it before jumping into the final decision.
Career Planning plays an important role in shaping your career, so is the planning to choose the best suitable option for yourself. You need to focus on various aspects before jumping into a final decision.
Career path analysis helps you in getting the best road map. Get your career assessment test by appearing for the free student profiling process. https://eduxact.edumilestones.com/

Click the link below and get an exhaustive career report and book for a free counseling session.  For Studying abroad in 15000+ across 20+ Countries visit the mentioned link.
Please share your valuable inputs regarding the article. Also, help me develop other information guides by giving your suggestions.
You can comment in the section below for sharing your thoughts.