Have you ever given a thought to the concepts of Career Counselling and will it ever rule the mindset?
Career is of prime importance. A career is the most integral part of everyone's life.
A career is an occupation or profession that one undertakes for a longer period in one's life and derives a monetary benefit from it.  
Let's take an example to understand the meaning of a career in a layman's language.
If you are good at Astrology but you do not gain any monetary benefits from it, then this will be considered as your hobby and not as your career. Similarly, if you start consulting your clients and start getting some reward out of it, then Astrology becomes your Career.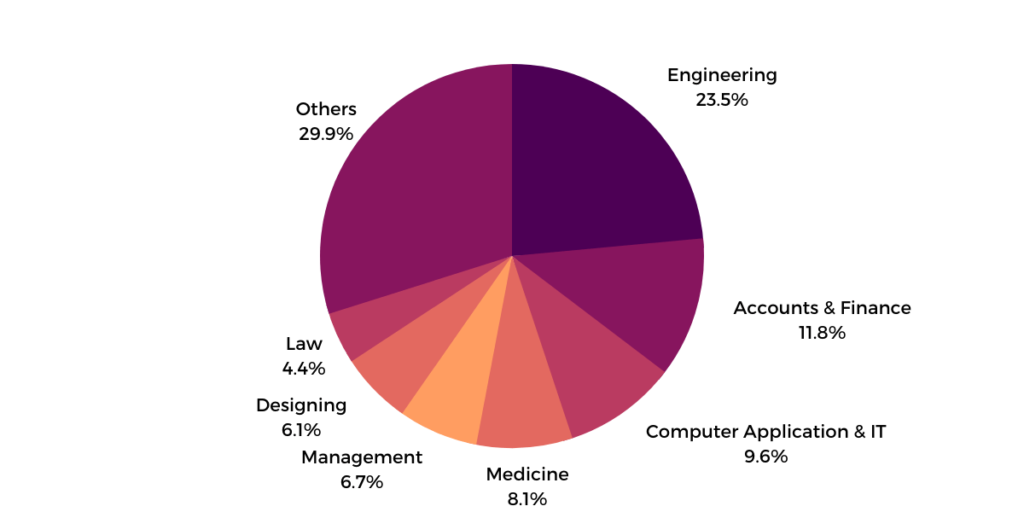 On average, most individuals have a career life of around 40 years. You are going to invest 80% of your life's time in the job or business which we call a Career. According to the career change statistics, an average person changes their career about 5-7 times in their working life. As per the survey, 93% of the Indian students are aware of only seven career options out of 250+ career options.
So it is very important that you research properly before selecting the one. This can be taken care of by proper career counseling.
Career Counselling is an ongoing process that happens in several steps. This is not a one-time job. So it should be taken under the guidance of a good Career Counsellor. This consists of the following stages: 
This stage is very crucial and sensitive where the counselor has to develop the relationship and trust with the clients. This will help in getting to know about the students or clients.
The next step is to extract the information from the clients(Students/Parents etc.) and this can be done by the questionnaire and forms.
Stage 2: Exploration  
In the second stage of Exploration, the client is asked to give their own detailed analysis regarding the career options. Proper assistance is given for exploring the detailed analysis of the students by taking some of the assessment tests mentioned below :
   

Intelligence Quotient (

IQ) Test.

   

Emotional Quotient (EQ) Test

   

Adversity Quotient (AQ) Test

   

Aptitude Test

   

Personality Test

   

Multiple Intelligence Test

   

SWOT Analysis Test

   

Psychometric Test
Upon successful completion of these tests, you come up with 5-10 career options. Once you reach this stage you need to take the help of your parents, teachers, siblings, and mentor. This will help you to narrow down your choices to 1-2 options.
Just, for instance, you came up with a choice of Doctors and Lawyers. Now, go and approach these professionals and spend 1-2 days with them.
Take a sneak peek at the kind of their work, their daily activities, salary, lifestyle, and their opinion regarding their work life.
Make a list of questions and ask them what made them select this career and what kind of preparation they have taken to get into this field. Also get to know about their skillset, interest, abilities, natural inclination, hobbies.
The next step is very important. Start mapping the information collected from these professionals (Doctors and Lawyers) with the information of your assessment results. This will help you to come to a conclusion.
Stage 3: Decision Making
At this stage, the counselor's job is to bring the students and the parents together on a common platform. This is the most critical stage in decision making which involves the selection of the best fit from a range of alternatives.
Stage 4: Preparation
This is the action plan and is going to be the real implementation of all the above-mentioned stages. Explore the roadmap to reach the destined career options. This pathway will have several ingredients like the eligibility criteria, entrance examination, colleges, universities, application, and selection processes.
Stage 5: Implementation
This is the final stage which focuses on the execution of the action plan with the career counselor.
No one is born perfect with all the information and knowledge and therefore each one of us needs guidance at some point in time. It helps us to make more informed decisions from others' expertise and experience.
In the case of making career decisions Career Counselling is one way that renders support and constructive guidance in several ways : 
     

Discovers your strength and weakness.

     

Sets objectives and goals.

     

Decides the right career

     

Provides good resources

     

Combat and minimizes the frustration and confusions

     

Getting useful support and motivation.
The myth regarding Career Counselling
There are myths in almost everything surrounding us and career counseling is not an exception. Today we are going to clear the myth regarding career counseling in some of the points discussed below : 
Myth 1: Choosing a Career is very simple and easy.
Myth 2: There is an age for Career Counselling
Myth 3: Career counseling is only meant for school students
Myth 4: Only unconventional careers need Career Counselling
Myth 5: Career Counselling helps in getting job and placements
Career Counselling is the most ignored practice by Students, parents, and guardians. It is often considered and seen as the least important option but in reality, it should be considered as one of the vital practices which revolve around making the right academics and professional possibility.
Hope these benefits of Career Counselling have given you an insight into it. If you need any help and seeking guidance, then get in touch with an expert at contact@eduxact.com.
Career Planning plays an important role in shaping your career, so is the planning to choose the best suitable option for yourself. You need to focus on various aspects before jumping into a final decision.
Career path analysis helps you in getting the best road map. Get your career assessment test by appearing for the free student profiling process. https://eduxact.edumilestones.com/

Click the link below and get an exhaustive career report and book for a free counseling session.  For Studying abroad in 15000+ across 20+ Countries visit the mentioned link.
Please share your valuable inputs regarding the article. Also, help me develop other information guides by giving your suggestions.
You can comment in the section below for sharing your thoughts.