Career Counseling, Career Assessment, and Career guidance play an integral part in shaping the individual's career. 
EduXact believes and provides exhaustive and practical Career Counselling, Career Assessment and Career Guidance.
Eduxact's vision is to provide the best structured and reliable career counseling platform that creates and gives what exactly is needed for life-changing experiences for school students, graduates, and professionals.
Our comprehensive education and career planning tool is one of the best assessment tools with an execution-oriented approach report. This comprehensive guidance and mapping platform with its automated career guidance tools and solutions helps the students to make the best decision.
EduXact helps to discover your best-fit career through its 5-dimensional assessment, counseling, and career guidance. So get what exactly is needed for you with EduXact.
Career Counselling is an ongoing process that happens in several steps. Career Counselling is the process of giving advice, guidance, and support for choosing the right career. This is not a one-time job. So it should be taken under the guidance of a good Career Counsellor. EduXact helps in giving the most reliable and genuine guidance for your career. 
A Career Assessment is a test developed and designed to explore your sets of strengths, aptitudes, and skills, to give you the best career for you.EduXact helps with an online Career Assessments test that evaluates across 5 dimensions namely Aptitude, Interest, EQ, Personality, and Orientation style. You get a detailed career report with and expert guidance to achieve your career goals.
Career Guidance is the ongoing process where the benefits of the career assessments and career counseling are taken to the next level. It is the process where the career counselor helps you on your path to career development and career success. A successful career takes extensive efforts and with an experienced Coach, your career development efforts can find the right direction. EduXact Career Counselor helps in providing career guidance by building the customized career action plan, designing a road map, and directing you back to the right path with focussed personalized 24×7 support. This handholding support will definitely help you go a long way in your career.
Career Planning plays an important role in shaping your career, so is the planning to choose the best suitable option for yourself. You need to focus on various aspects before jumping into a final decision.
Career path analysis helps you in getting the best road map. Get your career assessment test by appearing for the free student profiling process. https://eduxact.edumilestones.com/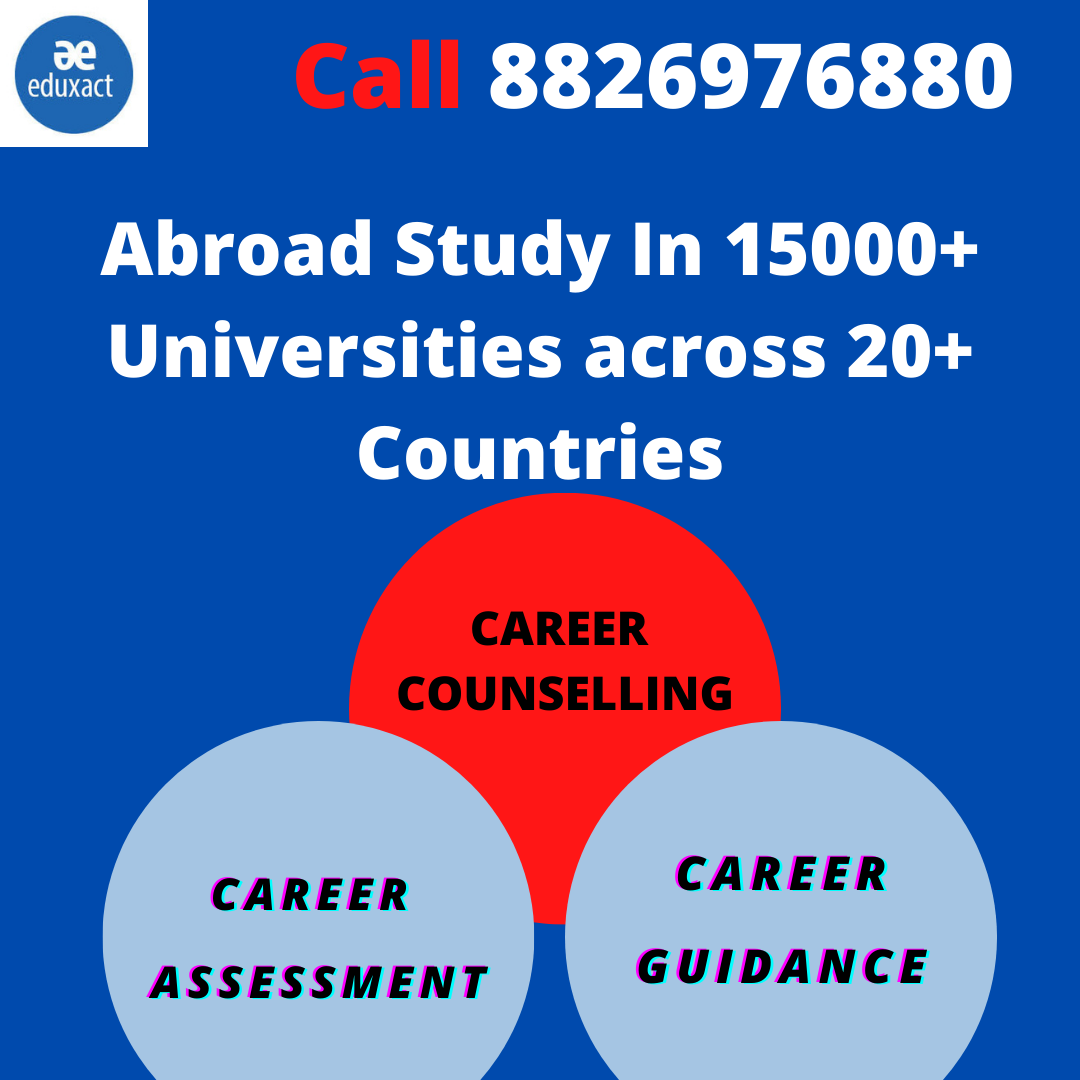 Click the link below and get an exhaustive career report and book for a free counseling session.  For Studying abroad in 15000+ across 20+ Countries visit the mentioned link.
Reach me for queries, suggestions, and Counselling at anuradhaamandal@gmail.com