TOEFL stands for Test of English as a Foreign Language is a standardized English language competency test designed for people who want to study or work abroad where the language of communication is English. This test is accepted by many English-speaking academic and professional universities.
It was started in 1964 and is the most popular English language certificate in the world. The Educational Testing Services (ETS) is the conducting body of the Test of English as a Foreign Language.
ETS is responsible for setting the question paper, conducting the tests, and also sending the scorecard to each and individual examinee. TOEFL iBT test is an internet-based test scored on a scale of 0 to 120 points.
There are around 4500 tests centers in more than 165 countries carrying almost 2.3 million tests every year. More than 10,000 colleges, organizations, institutions, and agencies across the globe accept this certificate as proof of proficiency in the English Language.
The exam mainly checks the capability of the test takers' communication in the four basic English language skills, like listening, reading, speaking & writing.
Mostly the Canadian and American Universities along with other institution accepts the score for admission.
TOEFL Exam: Need and Advantages 
The TOEFL Exam is undertaken by the candidates who are planning to study and take admission in foreign universities and colleges. This exam is important as the foreign universities and visa granting authorities want to get sure that one does not face communication problems while staying in the country.
The exam is not mandatory as many universities might not even accept the TOEFL score for admission. But your chance of getting a student visa may decrease as the visa officer may not be convinced about your English proficiency without the TOEFL score.
Therefore, it is always advisable to take the TOEFL exam which makes the students eligible for scholarships and also help the candidates for the job along with their visa application process.
TOEFL is mostly accepted by Canadian and American Universities compared to other countries. It is conducted by the ETS which guarantees the students a fair and unbiased process of score reporting.
Types of TOEFL Exam 
The  Test of English as a Foreign Language test is conducted in two formats namely  IBT (Internet Based Test ) and PBT (Paper Based Test ).
TOEFL IBT: Internet-based test is an online test and this is a more preferred test compared to the offline test.
TOEFL PBT: Paper-based test is an offline test where paper and pen are used extensively for the exam. This is not preferred by the candidates. Also, this format of the test does not conduct the speaking test due to the availability of limited resources.
Highlights of the TOEFL Exam 
| | |
| --- | --- |
| Exam Name | TOEFL |
| Full-Form | Test of English as a Foreign Language |
| Conducting Body | Educating Testing Services (ETS) |
| Accepted by | Most popularly by Canada and America, also accepted by UK, Australia and New Zealand |
| Mode of Exam | Internet-based and Paper based |
| Score Band | Score  0-120 points |
| Exam Fees | Registration fees for India is approx.  Rs. 13,605 (180$) |
| Official Website | https://www.ets.org/toefl |
Eligibility of Exam
Anyone can appear for this exam irrespective of age, race, gender, nationality, and religion.
| | | |
| --- | --- | --- |
| Age | Educational Qualification | Attempts |
| There is no specified age required to appear for the exam. | There is no minimum educational qualification needed, anyone who has passed high school or equivalent can write the exam | There is no set limit for the number of attempts. But one cannot take the exam within 12 days of the previous exam. Only 5 attempts in a year are allowed. |
Registration of TOEFL Exam
TOEFL test is conducted as many as 50 times a year by the conducting authorized center. There is no set limit for the number of attempts.  But one cannot take the exam within 12 days of the previous exam. Only 5 attempts in a year are allowed.
The Registration fee for the exam in India is approximately Rs. 13605 (180$), every time you appear for the exam you need to register with this amount of money.  Registration can be done in both the mode, is online and offline ( In-person).
Online TOEFL Registration 
Steps to Register for the Exam :
Step 1: Visit the official website of TOEFL. Create a new account or login into the already existing account.
Step 2: Go to the button 'Register for Test ' option.
Step 3: Fill in personal details.
Step 4: Select preferred available Test Date
Step 5: Select the preferred available Test center.
Step 6: Pay the registration fees.
Step 7: Take the print of the acknowledgment receipt
Offline (In-Person) TOEFL Registration 
You can register for the exam in person also by visiting the TOEFL India Office.
Office Information
Prometric
2nd Floor, DLF Infinity Tower -A
Sector – 25, Phase -II, DLF City
Gurugram, Haryana-122002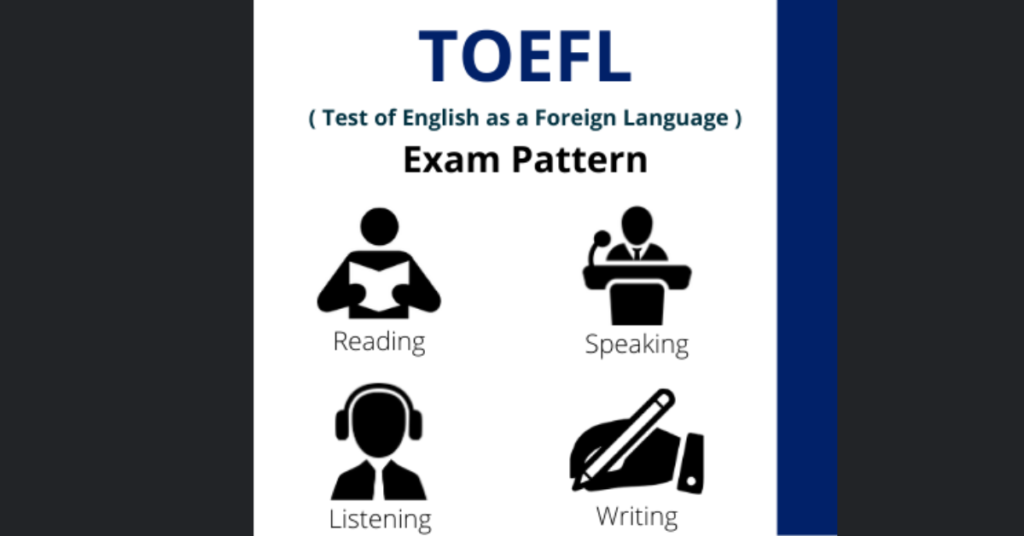 TOEFL Exam Pattern 
The test pattern comprises four sections-Listening, Reading, Writing, and Speaking. You get individual scores for all four sections as well as the total scores.
Internet-Based Test Pattern 
Internet-Based Exam Pattern

Component
Description

Duration

Reading
3-4 Passages each having 10 questions
54-72 minutes
Listening
5-7 Passages each having 5-6  questions
41-57  minutes
Mandatory break
Speaking
4 tasks
17 minutes
Writing
2 tasks
50 minutes
TOEFL Paper Based Exam Pattern
Paper-Based Exam Pattern

Component
Description

Duration

Listening
There are 3 parts :

Part 1: 30 question about a short conversation

Part 2: 8 questions about a long  conversation

Part 3: 12 questions about talks & lectures.

30-40 minutes
Structure and Written Expression
15 exercises for completing sentences

24 exercise for identifying errors

25 minutes
Reading Comprehension
50 questions about reading passages
55 minutes
Writing
Test of Written English (TWE). One essay with 250-300 words
30 minutes
Description of the TOEFL Internet Based Exam Score: The four-section scores of the exam are divided as follows :
| | | |
| --- | --- | --- |
| Component | Score Range | Mean Score |
| Reading | 0-30 | 20 |
| Listening | 0-30 | 19 |
| Speaking | 0-30 | 19 |
| Writing | 0-30 | 20 |
| Total Score | 0-120 | 80 |
Description of the TOEFL Paper Based Exam Score:  The four-section scores of the exam are divided as follows :
The final PBT score ranges between 310-677 based on the below subscores
| | |
| --- | --- |
| Component | Scores |
| Listening | 31-68 |
| Structure and Written Expression | 31-68 |
| Reading Comprehension | 31-67 |
| Writing | This is not a part of the final score. It is marked on a scale of 0-6 |
TOEFL: Exam Result 
Online Mode: Intimation will be received through the mail by ETS after 10 days of giving the exam. The result can be printed after 13 days of the exam.
Offline Mode: For the offline or paper-based test, the result will be declared 5 weeks after the test date.
TOEFL Validity Period
The validity of the TOEFL score is for 2 years.
Getting into a good college is a dream, you need lots of planning and research before drawing a conclusion.
Career Planning plays an important role in shaping your career, so is the planning to choose the best suitable option for yourself. You need to focus on various aspects before jumping into a final decision.
Career path analysis helps you in getting the best road map. Get your career assessment test by appearing for the free student profiling process. https://eduxact.edumilestones.com/

Click the link below and get an exhaustive career report and book for a free counseling session.  For Studying abroad in 15000+ across 20+ Countries visit the mentioned link.
Please share your valuable inputs regarding the article. Also, help me develop other information guides by giving your suggestions.
You can comment in the section below for sharing your thoughts.